Currently nuclear accounts for
40.97%
of low-carbon electricity in the EU.
Yesterday's agreement reached between Engie and the Belgian government confirms the 10 year extension of two nuclear reactors.  This decision will contribute in a limited way to ensuring security of supply as it will maintain 2GW of production capacity. "We welcome...
read more
Representatives of nuclear industry trade associations and professional societies have issued the following statement regarding the Zaporizhzhya Nuclear Power Plant in Ukraine: A nuclear safety and security protection zone should be established immediately around...
read more
What does nuclear contribute to Europe's economy?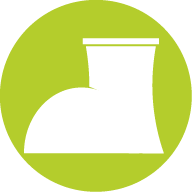 Nuclear reactors in operation in the EU