Currently nuclear accounts for
41.99%
of low-carbon electricity in the EU.
Brussels, 1 July 2022: "Building sustainable and clean energy systems will be harder, riskier and more expensive without nuclear" according to a recent report by the International Energy Agency. Not only is nuclear essential in the fight against climate change, it...
read more
Global nuclear power capacity needs to double by mid-century to reach net-zero emissions targets and help ensure energy security as governments try to reduce their reliance on imported fossil fuels, the International Energy Agency (IEA) said on Thursday.
read more
What does nuclear contribute to Europe's economy?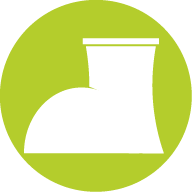 Nuclear reactors in operation in the EU