Currently nuclear accounts for
47.4%
of low-carbon electricity in the EU.
Today, the European Court of Justice (ECJ) has given its full backing to the European Commission's decision to approve the state aid mechanism applied to the construction of the new nuclear power plant in Hungary, Paks II.  The case was brought by Austria. In its...
read more
Representatives of nuclear industry trade associations and professional societies have issued the following statement regarding the Zaporizhzhya Nuclear Power Plant in Ukraine: A nuclear safety and security protection zone should be established immediately around...
read more
What does nuclear contribute to Europe's economy?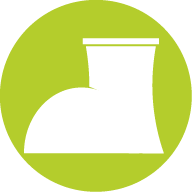 Nuclear reactors in operation in the EU