NUVIA – Whatever it takes to build a safer, cleaner and sustainable world
Bruno Lancia, CEO of NUVIA Group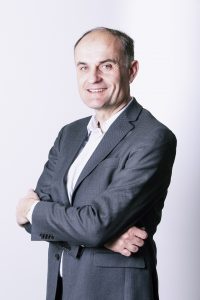 In the context of global climate change, low-carbon energy sources are at the heart of the ecological transition. As such, nuclear power allows for the decarbonisation of the electricity sector, which is still largely provided by fossil fuels such as coal. Nuclear is also a means of meeting the growing global consumption of electricity, driven by population growth and the development needs of emerging economies. Beyond power generation, nuclear applies to many other industries that leverage the use of radioisotopes or radiation technology for the common good.
Nuclear is the expertise of NUVIA, a subsidiary of the VINCI Group, a world leader in construction and concessions. With more than 60 years of experience on highly regulated and sensitive industrial sites, NUVIA is involved in many sectors of activity, including nuclear energy, of course, but also civil and military defence, nuclear medicine and the environment, offering its customers support services, engineering and state-of-the-art products – through its three NUVIATech brands: Instruments, Healthcare and Protection – required throughout the life cycle of their industrial facilities.
Operating directly in 12 countries, NUVIA teams are delivering projects in many more. Every day, NUVIA's 2,500 employees, wherever they are in the world, support their customers in the realisation of their most ambitious projects. They work alongside them to ensure the highest levels of safety and performance through six specialties: Engineering and EPC (Engineering, Procurement, Construction), Health Physics and Safety, Support and Services, Mechanical Systems and Processes, Civil Engineering and Special Works, and Protection of Installations.
For example, NUVIA is developing, designing, manufacturing and certifying passive fire protection solutions to keep facilities operational during a potential fire. These solutions comply with the most stringent safety requirements.
NUVIA's specialist teams are also contributing to the decommissioning of nuclear sites. From decontamination to demolition, all projects are completed with a dual objective of safety and sustainable performance. Ultimately, the site will be restored ready for new industrial use.
Moreover, NUVIA can address the most challenging projects. On appointment by ITER for example, NUVIA designed, certified, manufactured and installed the mechanical bearings that will support the Tokamak structure. These bearings will enable movements and the transfer of the loads from the Cryostat to the supporting crown wall. The meticulous work completed over three years contributes to the sustainability of this exceptional project.
From design to construction, operation and decommissioning, NUVIA prides itself on doing whatever it takes to build a safer, cleaner and more sustainable world.