Nuclear energy's low-carbon value needs to be recognised so that it can compete with other low-carbon sources
Aurélie Faure, FORATOM Investment Framework TF Coordinator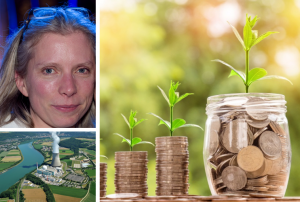 The work of the FORATOM Investment Framework Task Force came to an end this February with a public webinar on "Financing of Nuclear New Build" held on 18 February 2021. The final Task Force Report will be published and it will be entitled: "The role of financing in securing new investments".
The work that spanned over 1,5 years can be seen as a reference to assist policy makers when preparing national or regional low-carbon energy plans in line with the European Green Deal announced by Ursula Van der Leyen, President of the European Commission.  The Green Deal includes €1,000 Billion in public and private investments planned to 2027.
As many observers to the Task Force noted, judging strictly from past nuclear project experience does limit the ability to assess the opportunity of new investments in nuclear. Moreover, nuclear projects – being a sizable investment amount – require large financial market absorption needs, specific financing models which need governments and public authorities to take central roles and clear engagements in financing from the outset.
The Task Force focused its work on an assessment of best practices. An assessment of the tools used in the nuclear industry was conducted and projected scenarios of credit grade assessment were built for a new large-scale reactor or a new program supported by a corporate utility. The work highlighted areas where third party credit support is required to be able to achieve an investment grade. It was also highlighted that final prices for electricity consumers can be embedded ex-ante within a financing arrangement. To this extent, reductions in the cost of financing was considered as one of the drivers of lower future electricity prices delivered to consumers. Ultimately, a dynamic risk-based approach to financing using contractual incentives may offer some innovative perspectives to projects and financing related risk mitigation in the future.
The Task Force financing assessment shows that nuclear may bear similarities to infrastructure lending profiles bearing in mind that other financing instruments may be considered as alternatives (subordinated equity, debt instruments, loans). In addition, for nuclear to compete on its intrinsic benefits compared to other forms of low carbon energy (hydrogen, renewables, hydro) its low-carbon value needs to be recognised.